Working...

Super Raider Sidekicks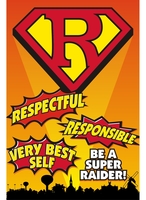 The Central Elementary Super Raider Sidekicks would like to welcome and thank you for inquiring about our program.
Our mission is to provide our students at Central Elementary with a positive role model by having our Parents, Grandparents, and other positive community members volunteer in our school on a regular basis.
This can be easily done by chatting during lunch, or participating in games at recess, all would make a huge difference in the lives of our students. Our hope would be for each volunteer to commit to connecting with ONE (1) of our students during lunch one (1) to two (2) times a month with the ultimate goal that the meetings and relationship between the mentor and student would hopefully carry on into their high school journey. This way the students will be shown an example of relationship building and commitment, two skills that will help them thrive as they grow.
If you are interested in volunteering your time with this initiative, please use the links below to complete participation information so that we can contact you with more information!
You can also contact Jessica or Kim at Central Elementary for more information.
Kim Marquardt and Jessica Bonewitz
(marquardtk@usd320.com or bonewitzj@usd320.com)