Working...

February G.E.M Award Recipient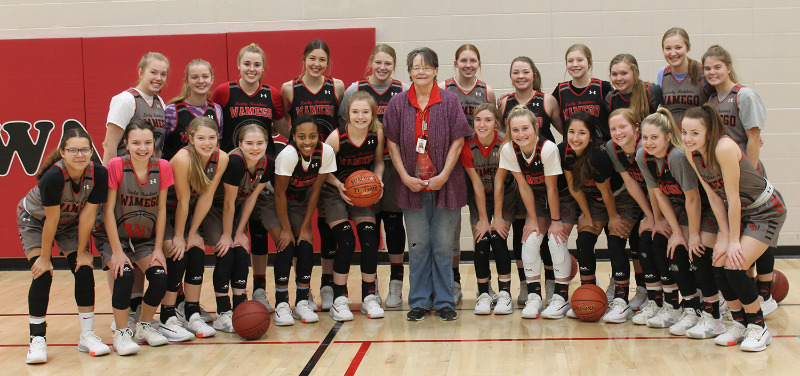 Today we made a very special presentation, to a very special lady. Not only has she made a big impact on the staff at the high school, but on the students as well. Pam had several nominations.
I would like to nominate Pam Bedore, WHS evening custodian for the GEM award. I cannot
think of anyone that is more worthy and deserving of this award. When you think of going the
extra mile, Pam not only lives this, she exemplifies it. Pam's area of the building is by far the
cleanest and best-maintained area. She truly takes pride in her work. When commenting on
how well her area looks, she will always say that she wants it to look good because that is what
the students and staff deserve.
Pam's work ethic and attention to detail are amazing, but that is not the only reason why she
should be the GEM award winner. She also deserves this award because of her attitude. Pam
is one of the most positive individuals that I have ever had the privilege to work with. She is so
genuine and caring. She is constantly heard giving students and staff members greetings and
words of encouragement and she is the biggest fan of any Red Raider sport or activity.
I saw a quote on a wall in a school that made me think of Pam. The quote said, "If everyone in
our school had your attitude what kind of place would it be?" I can tell you what kind of place
our school would be if everyone had Pam Bedore's attitude. It would be the best school in the
country because everyone would give their best effort, truly care for one another and the
product they put out.
Please give a strong consideration of Pam Bedore as this month's GEM award winner. There is
not an individual in my opinion that is more deserving.
Thank you very much,
Sincerely,
Dennis Charbonneau
I would also like to nominate Pam Bedore for the GEM award. Pam is one of the hardest
working people at USD 320. Not only does she work hard, but she takes pride in her work and
has the ability to make anyone happy with her attitude. In my conversations with the students,
they all know her by name and have commented about how she always asks about the activities
they are involved in. Pam is a Red Raider to the core and shows that in her actions. Pam
exemplifies what it means to be a team player. If you could have a perfect employee, Pam
Bedore would fit that description. Pride in her work, positive attitude and team player! Please
consider Pam Bedore for the GEM award.
Thank you!
Weston Moody
I would like to also nominate Pam Bedore for the GEM award. Everytime I see Pam, she has a
big smile on her face and wants to know how I am doing. I always walk away from my
conversations with her feeling better and more encouraged because of her positive attitude.
Pam supports everyone. She loves all the activities, but I think, without a doubt, she is the #1
fan of the pep band--clapping and smiling through every song at the games. She does her job
well and without complaint. We are very lucky to have a person like her working in our school.
She absolutely deserves the GEM award.
Thanks Pam!
Respectfully,
Troy Hemphill
Pam is so deserving of the G.E.M. award. She exhibits qualities that inspire and encourage me.
Every time I meet Pam, she is conscientious to not only speak to me, but to use my name. One
evening she was making a copy of the list of all the teachers/room numbers so she could be
sure she knew each of us by name. I know she makes every staff member and student she
encounters feel special by asking something specific about them or giving a sincere
compliment. Her positive and friendly attitude is contagious.
I have seen her literally on her hands and knees scrubbing baseboards. She goes above and
beyond her duties and takes great pride in her work and our school. Pam would do anything
anyone asks of her, but she doesn't have to be asked. Pam is a person who notices what
needs to be done and takes care of it without expectation of recognition or praise. She is so
appreciated and loved at our school.
Sincerely,
Jina Kugler
Pam exemplifies what the GEM award represents; she goes the extra mile in her daily work and
takes pride in all she does. However, what truly makes Pam deserving of this award is that she
simply doesn't look at her position in USD 320 as a job, but as a family. She always takes time
to have a kind, personal conversation with staff and students. She knows our students by name
and loves being part of the activities surrounding them whether it be a pep rally, a band
performance, or a basketball game. Her work ethic is unprecedented, and yet, Pam always
finds time to leave a kind note, small gift, or simple kind comment to make everyone who talks
to her or who leaves her a better person. If anyone deserves this award, it is Pam Bedore.
Thanks for all you do, Pam and thanks for making USD 320 a little brighter each day.
Sincerely,
Mary Lonker
The WHS Secretaries absolutely agree with everything that has already been mentioned about
Pam Bedore. We are so appreciative of her help in the office anytime we need her. She comes
in most every day at the beginning of her shift just to ask if there is anything we need her to do
for us. Her kindness and generosity is second to none. Pam truly brightens the day of anyone
with whom she comes in contact, simply with a smile and a sweet compliment. We can't think of
anyone more deserving of this award.
Sincerely,
Kim Stewart, Paige Padgham, & Patricia Goehring
Pam is beyond deserving of recognition to what an amazing colleague and person that she is.
From one of my first days, Pam noticed that I was someone new walking the halls. She did not
hesitate to make me feel welcomed. Every time our paths cross, she will use my name and we
exchange conversations about glasses or cute shoes. Everyone needs to be seen, and
instantly she made me feel like a person who belonged in this building. It can be daunting
coming into a new place, and not knowing if you feel like you belong yet. However, Pam makes
me feel welcomed each and every day. I look forward to our short conversations each day as I
leave my office. What I find so special, is that she has taken the time to see each and everyone
of us. It is only right that we take the time to see her.
Sincerely,
Taylor Stewart
Pam's big heart and strong character exemplify what it means to Go the Extra Mile. She is so
thoughtful, considerate, and she genuinely cares for each student, staff member and building
guest she meets. She always has a ready smile and kind comments. She makes it her priority
to ensure those around her feel special and appreciated for who they are. Thank you Pam for
all you do! You are truly making a positive impact on us all!
Sincerely,
Suzy Sprenkle
Thank you to our sponsors:
Gene's Heartland Foods
Paramour Coffee
Friendship House
Short Stop
Spirits of 76
Brown's Chevrolet Buick
Gambino's pizza.
from Sparrow Specialty Coffee
Kaw Valley State Bank