Working...

FFA Plant Sale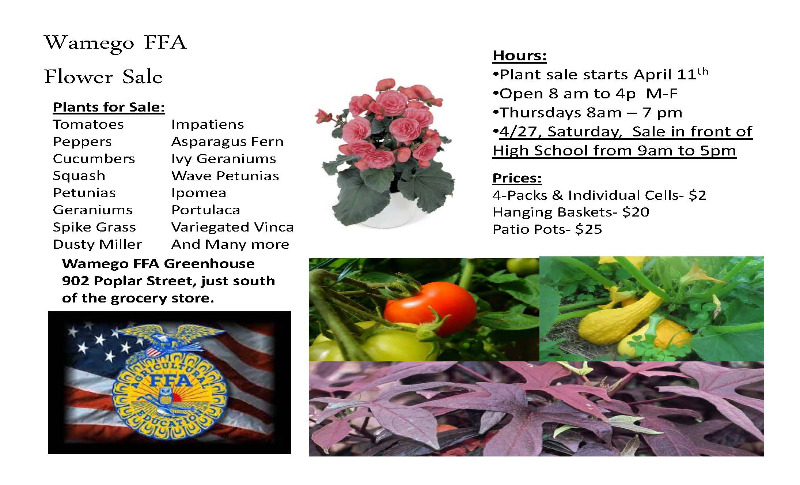 The Wamego FFA Flower sale begins April 11th at 3:30, at the greenhouse behind the high school.
FAQ:
1. Do you have any perennials or landscaping plants?
A- We only grow annuals and do not have any landscaping plants or trees.
2. Are these plants safe to put outside now?
A- Our greenhouse is set to drop to 38degrees at night. If it would get colder than that outside they might freeze.
3. Do you save or let people hold an order?
A-We do not save back any plants for customers.
4. Do you take a debit or credit card
A-We only accept cash or checks.
5. Where do we park at?
A- park on the south side of the greenhouse to the west of the shop building.
6. Does the school get the money?
A- No, The Wamego FFA uses the money to pay for competitions and leadership events.
7. Can we return plants with issues?
A- All sales are final and we do not accept any returns.
8. What do you have for selection?
A-Check out the flyer attached or swing by!
9. Are you open on the weekend?
A-the only weekend we will be open at this time is Saturday April 27th. IF the weather is not good on the 27th we will be open on the 28th.
10. Do you restock?
A-Once we are out of an item we are out! We do not restock or get anything from a major supplier. The Horticulture class and FFA are in charge of all the plants