Working...

May G.E.M. Award Recipient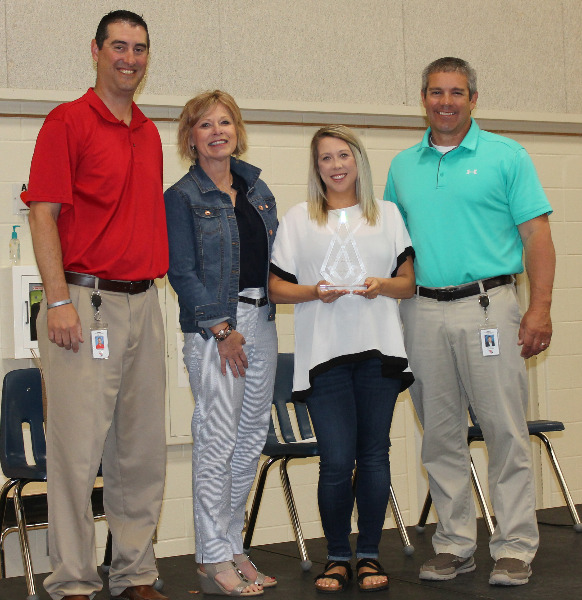 Congratulations to Kaitlyn Hoyle, May's G.E.M. Award Recipient. Language Arts Teacher at Wamego Middle School
I am so impressed with Kaitlyn Hoyle and thankful for her impact here at Wamego Middle School. Mrs. Hoyle has astonishing leadership abilities in addition to her commanding yet relatable presence in the classroom. The learning she plans, the environment she creates, and the friendships she fosters are all incredible. Her heart for excellence and value for people is evident by her teaching; she always goes the extra mile.
The incredible energy and effort she puts into her students must be recognized. When students walk through her door she prioritizes their need to feel welcome and intentionally focuses her on the success of each and every one of them.
Her dedication is astounding, evident by the extra work she puts into her classroom objectives, practices, modifications, and follow-up. I honestly don't know how she is able to accomplish it all.
As a special education teacher, I know first-hand that all students are given the attention they need to succeed. The more challenging the need, the more energy she gives.
It is a very unique quality in a teacher to do so much more than what is required.
For example, she is always willing to help, whether it be a student needs a time after school, needs a schedule adjustment within her room, or even to help a teacher with a technology concern. Relationally, she provides those hurting students with some "extra TLC"—Mrs. Hoyle is right there, more than willing.
Professionally, Mrs. Hoyle is a leader in our building. She is on numerous committees and always welcomes a chance to mentor a new teacher. She sacrifices in order to ensure that every member of her team understands the tasks at hand and is empowered to face them. Her hyper-organized mind manifests in the way she is able to recognize problems, collaborate to solve it, and delegate when necessary. If Mrs. Hoyle sees a need, she will step up and take it on. We would not be where we are today without her Going the Extra Mile.
Thank you to our Sponsors:
Gene's Heartland Foods
Paramour Coffee
Friendship House
Short Stop
Spirits of 76
Brown's Chevrolet Buick
Kaw Valley State Bank
Gambino's pizza.
Sparrow Specialty Coffee
Daylight Donuts