Working...

Wamego Family Resource Night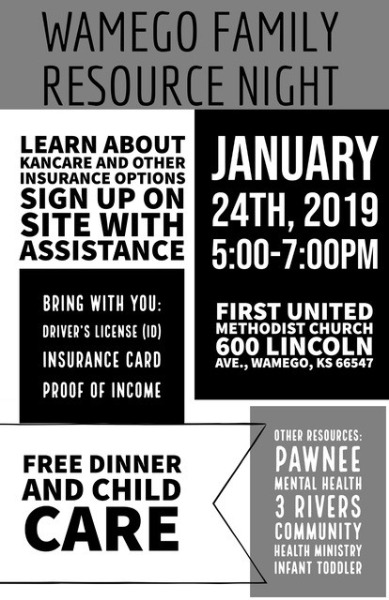 USD320 along with several community partners will be hosting a Family Resource night on January 24th from 5-7pm at the First United Methodist Church in Wamego. This will be an opportunity for families to come and visit with different service providers in the area including Pawnee Mental Health, 3 Rivers, Community Health Ministry, Infant Toddler and Parents as Teachers, as well as representatives from the Kansas Department of Health and Environment. There will be information on KanCare and other insurance options for families as well as the opportunity to sign up for insurance that night with the help of a representative. If your child is currently uninsured, this is the opportunity to get them insurance! All children in the state of Kansas qualify.
There will be a meal provided as well as child care, so parents can talk to the different resources freely and privately. All are welcome from the community! Please feel free to share with others who would benefit from any of these resources.