Working...

December G.E.M. Award Recipient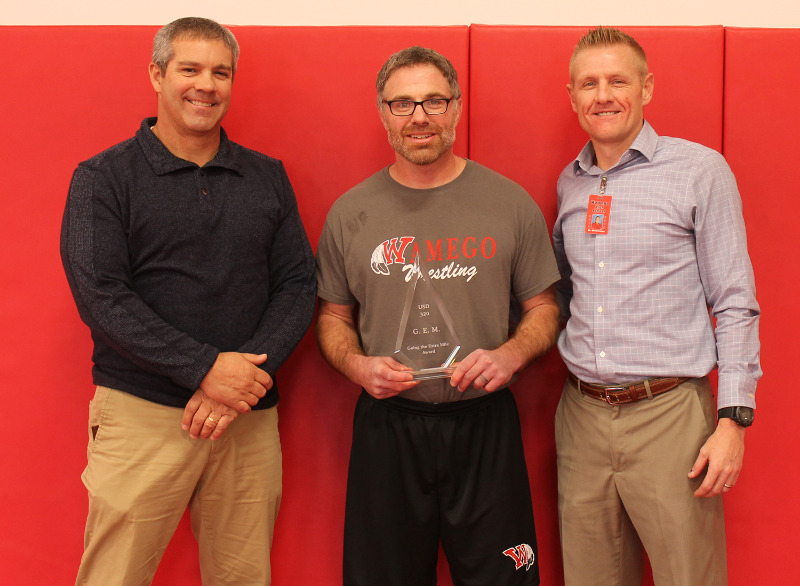 When Kevin Brown accepted the position as VPL instructor at Wamego High School, he probably wasn't totally sure what he was getting himself into. The job description wasn't clearly defined and often has conflicting roles of disciplinarian, mentor, coach, and credit recovery teacher. Anyone will tell you it is a tough gig. He tracks down students for unexcused absences, monitors progress and assists students with online courses, assigns detentions, and is the "go-to" for discipline issues. Throw in some wrestling coaching, Leadership Team meetings, SAT team, and being a dad and husband and you get an idea of just how busy he is. However, in the midst of all that, Mr. Brown prioritizes developing relationships with students. He is the epitome of calm—even in the middle of the chaos of someone else's storm. He is level-headed, thoughtful, and most of all he is kind. I can't tell you how many times I have walked into his room to see him listening intently to a student or offering sound advice. Mr. Brown does not rescue students. He holds them accountable but helps them find their own solutions and paths to success. He does all this in such a humble and sincere way, students are drawn to him—especially students who have not always felt valued in the school setting. He has brought a student into his home to live temporarily, worked with students on academics after wresting practice, and provided creative alternatives for students to complete their required credits. Mr. Brown builds relationships and gives students a safe place—whether they need to get work done, talk through an issue, or just calm down. Mr. Brown could easily fulfill his job duties by being a "hard butt" doling out discipline, enrolling students in classes, and keeping them quiet. Instead he Goes the Extra Mile to really get to know students and meet their individual academic and social needs. He is truly deserving of recognition for the GEM Award.
Kevin Brown is the ACE/VPL advisor, a job that would send most people into the hallway screaming (just being honest, here). He's also the wrestling coach, a life skills coach, and mentor to many students. Mr. Brown is one that truly cares about his students. He takes what he does for a living and goes the extra mile.
There are many examples of Mr. Brown's commitment to his students, but one example recently was one that occured last month. We had a student that was struggling to care about school. He went to each teacher and said, "What can we do to show this child that they can succeed?" He went on to devise a system for them and as this person saw small successes along the way. As this person saw adults caring about them and their future, they began to turn their life around. This student went from flunking all of their classes, to passing almost all of them. This student is still working hard. I'm confident that with Mr. Brown and the school's encouragement, success is around the corner. I do feel however, that it weren't for Mr. Brown, this person would not be doing as well as they are.
Mr. Brown is a family man. He puts his family first. He cares about this new community that he's moved to, and it making it work on all levels.
His pride and passion is bringing students to succeed in wrestling. He's encouraged many youths along the way, and has been successful in allowing females to feel represented in the sport as well. Last year he brought a student all the way to winning state; no small feet for a small-town school.
I feel that Mr. Brown has shown that he is the type of person that is perfect for this month's GEM award, and it is my honor to nominate him.
Thank you to our sponsors:
Gene's Heartland Foods
Sparrow Specialty Coffee
Paramour Coffee
Friendship House
Short Stop
Spirits of 76
Cheers
Anonymous donor
Columbian Theater
Gambino's pizza.
Daylight Donuts